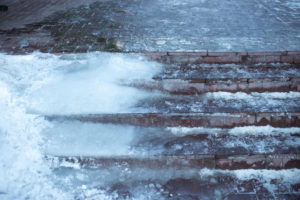 Minnesota winters produce harsh winds, dark skies, and snow. But, the most precarious weather consequence affecting, not only the elderly population but all generations, is ice.  Ice is a rigid structure maintained by hydrogen bonds and forms when water is cooled below 32°F (0°C). It hosts many of our states favorite pastimes (shout out to the Minnesota Wild), but also poses danger to drivers, pedestrians, and homeowners who are simply trying to maneuver through the labyrinthine byways of a once secure driveway. Needless to say, this challenge is not always a success.
Incidentally, the leading cause of brain injuries in the state of Minnesota is from falls. The Minnesota Brain Injury Alliance and the Minnesota Department of Health say, falls are responsible for 38% of all brain injuries annually. That is a huge number! Ideally, we would like to completely eradicate ice in order to decrease the injuries that coincide, but this is not realistic. However, individually, we can take measures to drastically decrease the problem within our own home.
First, one must be aware of the drainage system on their roof. A functioning roof system will shed moisture off the roof and into gutters where it can be properly filtered away from your foundation and walkways. If you have noticed ice dams, your roof is unable to perform because an issue exists within in your attic. It is important to note that a permanent solution, which does not require continual snow removal of the roof, exists and will increase the life of your roof and structural components of the attic.
Check out our blog on attics & energy loss to learn more about the attic system. At CBS, we specialize in these exact issues and offer lasting solutions to ensure peak energy efficiency, life span, and performance of your roof and attic.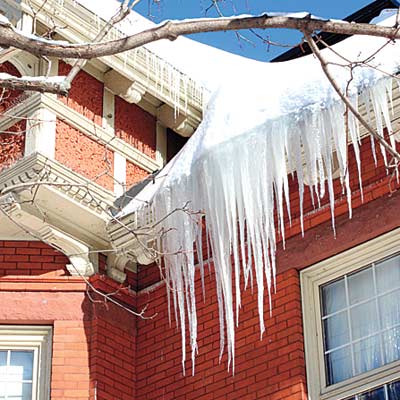 This ice dam is preventing the roof's drainage system from functioning properly.
A second factor to consider is the foundation of your home. It is paramount that water be directed away from the foundation to avoid ice build-up, but to also prevent basement leakage.
Charles Glossop, owner of Minnesota's most highly esteemed commercial snow, landscaping, and consulting company, Hantho Outdoor Services, provided us with some of his methods (which CBS highly supports) for the best ways to prepare for this phenomena pre-winter:
1) Downspouts and gutters must be efficiently draining water away from entrances and walkways
2) A positive slope must exist around the foundation, walkways, and driveways with at least a  6" drop in elevation within the first 10 feet of the foundation (International Residential Code). This positive slope encourages water to move away from your home
3) Consult a professional before planting trees near your home. If trees are too close, their roots can actually grow into the foundation, causing cracks, and will retain water near the base of the home. If you combine a negative grade and trees in close proximity to a foundation, the tree roots will actually follow the water (which is trapped near foundation from negative grade) and may cause serious damage to the home's foundation.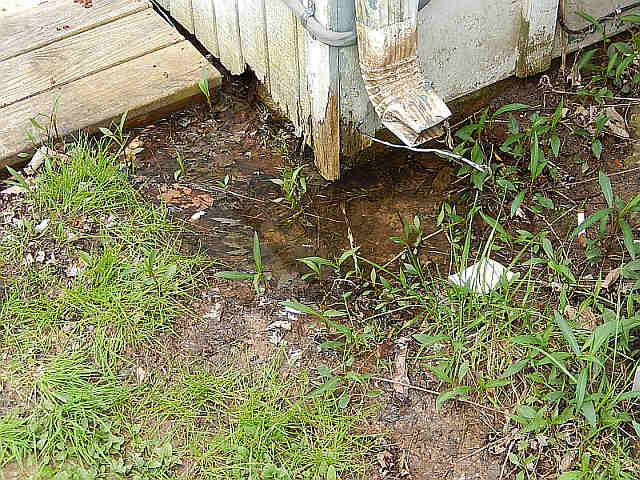 The above photo demonstrates a gutter that is not draining water away from the foundation and a negative grade that is holding water near the foundation.
Now, we know it is mid-winter and your negative grade issues cannot be addressed until spring. However, there are some measures you can take NOW to prevent ice build-up. Charles Glossop suggests using a liquid brine BEFORE it snows to "prevent the bonding of snow to the pavement." Check out Hantho Outdoor Service's website to learn more about the liquid brine they make and use for commercial snow removal.
To recap, the two main sources that propagate ice are 1) an insufficient roof drainage system and 2) Improper drainage system of your foundation. After the recent snows, and upcoming freeze/thaw cycle, you will quickly know if there are problems within these drainage systems. If you have ice dams, slippery sidewalks, standing water, ice build-up on driveways, or around other areas of your home, you may need to start planning for next year.
Call Complete Building Solutions to come to inspect your property and start working towards a plan to create an efficient and safe environment at your home.