It's time again to share with you one of our best and most trusted business partners. This partner is not only an industry leader in the landscape, water management, and snow removal fields but a global educator speaking at esteemed conferences and consulting with clients worldwide.
The best part? This company is local, serving you right here in the Twin Cities.
So, without further ado, we'd like to introduce you to Hantho Outdoor Services.
As we head into the spring season, you may find yourself needing some assistance with water management.
Are you suffering from:
Drainage and standing water issues
Need site planning for a new construction build
Desire an aesthetically pleasing and functional landscape design
Looking ahead for winter snow removal services at your association
Want to install a new retaining wall or rain garden
Do any of the above bullet points ring a bell? If so, read on to learn about the solutions our trusted partner has for you!
BONUS! Read to the end to see exclusive photos from a large multi-family complex project Hantho Outdoor Services and Complete Building Solutions teamed up on.
Reasons we partner with Hantho:
–They know water!
Ok, this may seem basic, but understanding how water affects structures and properties is truly a science.
Standing water can turn your yard into a swamp or an ice rink, cause foundation and slab cracking, flood your basement, and cause driveway and concrete heaving. Because of this, it's important to address water management pre-construction and post. Even a simple addition to your current home can disrupt the flow of water leading to erosion issues.
As an engineering firm, we have seen a LOT of structural issues related to water and it's why we partner with Hantho Outdoor Service's to provide our client's with well rounded solutions.
Watch out, water! Hantho Outdoor Services combined with Complete Building Solution's engineering is NOT a force to reckon with.
– They have solutions to complicated problems!
When it comes to serious water problems like underground springs, neighborhood drainage issues, or poor soils, we like to have Hantho Outdoor Services on our team. Most companies have no idea how to even touch these problems. But, when Hantho Outdoor Services and Complete Building Solutions work together, creative solutions are born.
Hantho's depth of knowledge in horticulture, agronomy, and soil science combined with an engineering firm's expertise in functional systems, puts an innovative twist on traditional drainage solutions such as rain gardens, drain tile, retention ponds, soil remediation or more.
–They have experience!
Hantho Farm's fierce leader, Charles Glossop, has over 30 years of experience in horticulture, water management, excavation, agronomy, snow removal and salt application. Between him, his son, and their highly trained team, they know what works and what simply doesn't hold up over time.
Don't believe us? Check YouTube and Google. Charles, from Hantho Outdoor Services, can be found all over the internet providing education and information to the masses.
–They are versatile!
Living in the midwest means 4 distinct seasons (in theory haha). This means that Hantho Outdoor Services does more than landscape and water management. They have become one of the leading snow removal companies in the northern hemisphere. Charles has developed a Top Secret formula for de-icing roads which not only works better than anything else on the market, but is actually healthier for the roads.
We appreciate this versatility because it provides our clients with top-notch grounds maintenance and management options year round.
–Their clients love them!
There is a reason that Charles has been the Chief Grounds Consultant to the Metropolitan Airport Commission for over 20 years. His clients love him, his son, and their team. They don't have large online marketing campaigns because they simply don't need them. Word has spread around town that Hantho is the absolute best at what they do.
–They keep their promises!
We've worked side by side with Hantho Outdoor Services on enough projects to know that when they make a promise, they keep it (click here to see one example of this).
They are a company that believes in only the best customer service and doing what it takes to ensure a job is done right.
They don't cut corners because they care about their reputation for doing good work but more importantly for their clients.
–Leading educator in horticulture and snow removal!
When Charles Glossop is not running Hantho Outdoor Services, he can be found consulting with clients, speaking at conferences worldwide, and staying heavily involved in SIMA, an organization which he helped to found in 1996.
His knowledge and experience have turned him into one of the leading experts in the industry. Organizations and contractors globally look to Charles and Hantho Outdoor Services for advice and guidance.
If this doesn't bring you confidence in their abilities, I don't know what will.
BONUS!
Project Highlight: A homeowner association hired Complete Building Solutions and Hantho Outdoor Services to fix their severe drainage and poor water management issues.
Complete Building Solutions performed necessary engineering and wrote the scope of work. Hantho Outdoor Services implemented all the required repairs and new water management plan.
The 2 million dollar project phased out over 3 years in order to accommodate the Homeowner Association's budget.
The client was blown away by the results!
Initial problems due to poor water management:
Failing retaining walls
Cracking/bulging concrete and asphalt
Cracked/deteriorated foundations
Pooling water
Sinkholes
Swampy landscape
Icy conditions in the winter months
Check out some of the photos below depicting these issues: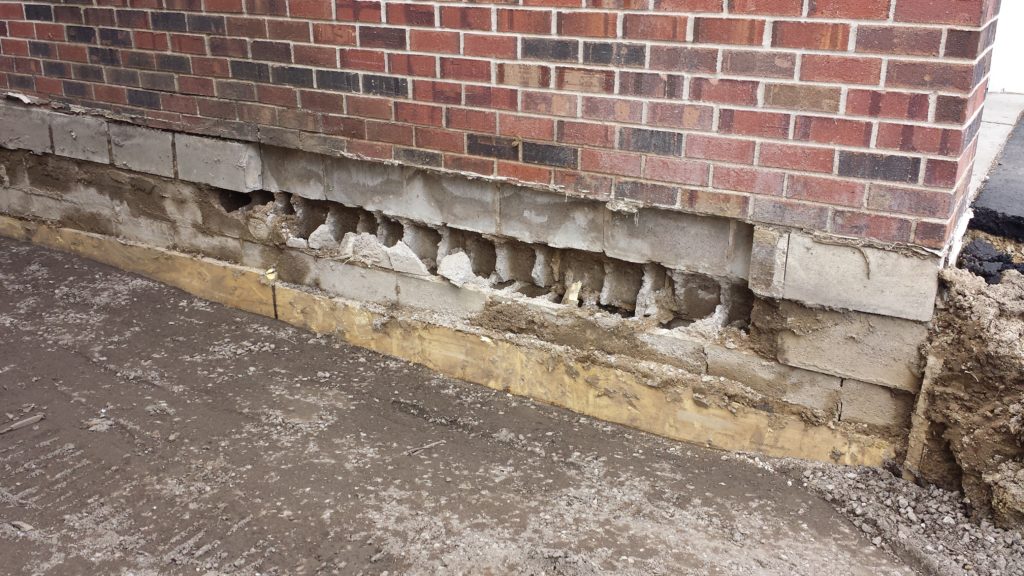 Solutions Implemented!
Water Management Plan:
Soil correction- to prevent recurrent damage from water
Grade correction- to prevent recurrent damage from water
Installation of various swales, french drains, rain gardens, and more
Executed a beautiful & functional landscape design
Repairs required because of excessive water damage:
Concrete replacement
Foundation repairs
Asphalt replacement
Skirting board replacement
Retaining wall repair
Here are a few photos showing some of the corrections made:
This is just one project highlighting the great work Hantho Outdoor Services has completed in conjunction with Complete Building Solutions.
Whether you are a property owner, developer, or homeowner association struggling with water issues, contact Complete Building Solutions to set up a consultation with us and our trusted partner, Hantho Outdoor Services, today.