Most homes built before the 1980's were hand framed which means any wall removal or addition project typically needed to be structurally engineered by a professional. The replacement of hand framing with trusses during the 1970-1980's simplified the whole process making it easier to pull out a wall.
However, wall removal/additions can still be very complicated and frequently require an engineer's stamp of approval to acquire a permit. Because of this, customers call us weekly to help them determine if a wall is load bearing.
The picture below is a great example of one of those calls. The owner of this two-story home wanted to remove an entire wall and create a new beam and column system in order to open up the existing great room.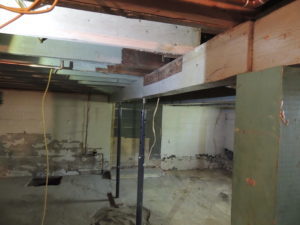 Complete Building Solutions performed an onsite inspection and determined that the wall was load bearing with an existing header. Our engineers then designed a column and beam to replace the entire wall.