A shearwall is a wall that is designed to handle not only vertical loads but horizontal loads from factors such as wind. Most building's exterior walls are shearwalls since they will be exposed to these horizontal loads. This is important to know when looking to remodel or add-on to a shearwall.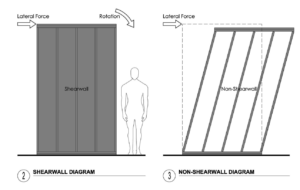 Garage Header Project:
For example, CBS was recently called out to look at a garage header project. The inspector who examined the garage requested that an engineer examine the structural integrity of the project. Complete Building Solutions went to the property and looked at the current garage header over the garage doors and a few other factors contributing to the structural integrity of the structure.
The beam itself was sufficiently supported by the columns that were constructed. This means that the structure was able to support the vertical load.
However, the horizontal load also needed to be taken into account since the garage exterior walls were shearwalls and would be exposed to wind. Our engineer took measurements and performed calculations to account for the horizontal load. He was then able to determine that the current wall was NOT designed properly as a shearwall.  Efficient solutions were then laid out to the homeowner so the proper shearwall design could be implemented.
The above example demonstrates that many factors contribute to proper shearwall design and integrity.  If you are planning on remodeling be sure to contact Complete Building Solutions to help you validate the integrity of your plans.